text.skipToContent
text.skipToNavigation
Discover styling with character.
We stand for you being able to express your individual style in your own way.
Your personality is your strength and likewise the unique properties of our products are our strength.
With OSiS, you can unleash your creativity and style your hair according to mood and feeling.
The styling range that can help you create any look, any time.

JUST ADD YOU.
OSiS Super Shield
OSiS Super Shield is a versatile, protective and vegan spray that is specifically designed to protect hair against pollution, moisture and heat up to 230°C. It manages frizz, is investigative and gives dull hair a well-deserved shine boost!
-No charter
-Vegan formula and with heat protection up to 230°C
-Protects against pollution and dirt
-Increased investigative skills and comprability
-Shine & shine
OSiS Velvet
OSiS Velvet is a vegan spray with a wax effect that makes the hair velvety smooth. Use on dry hair for reshapeable texture and shine, or on towel-dried hair for a more well-groomed look.
-Easy to charter/+
-Vegan formula that is not sticky
-Flexible and shapeable texture with light wax effect
-Velvety feel
- Does not weigh hair down
-Ultrafine spray distribution
OSiS Texture Craft
Create texture, subtle hold and volume with OSiS Texture Craft, a dry, vegan texture spray – specifically formulated for styling long hair. It provides light hold and allows the hair to move naturally freely without becoming stiff.
-Easy to charter/+
-Vegan formula that gives a dry texture
-Gives hair volume
-Powdery and not crunchy texture
OSiS Freeze
OSiS Freeze is a vegan hair spray with a strong hold that is perfect for creating hairstyles that last and with protection against heat damage caused by styling tools up to 230°C.
-Strong statute/+++
-Styling that lasts a long time
-Leaves no residue and is easy to brush through
-Vegan formula with protection against heat up to 230°C
OSiS Freeze or OSiS Freeze Pump?
-OSiS Freeze is a finely divided and quick-drying aerosol spray that can be advantageously used as a finish.
-OSiS Freeze Pump is a non-aerosol pump spray that defines and holds individual curls in place.
OSiS Volume Up
OSiS Volume Up is specifically formulated for long hair that lacks fullness, this vegan spray instantly boosts hair texture with impressive volume and lift, while preventing static.
-Medium charter/++
-Vegan formula that highlights the hair texture
-Gives volume and lift to the scalp
- Fights static hair and tames the small hairs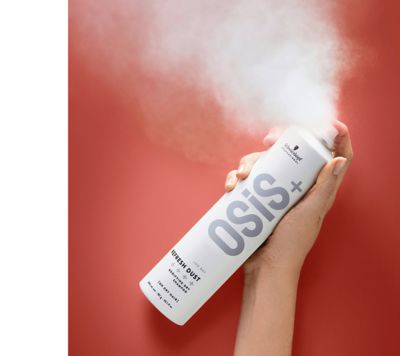 OSiS Refresh Dust
OSiS Refresh Dust is a vegan dry shampoo that plumps hair and counteracts oily scalp, while providing instant volume and hold.
No charter
Refreshes the scalp and lengths
Vegan formula that absorbs fat
Instant volume and fullness
Uttryck ditt autentiska jag genom din frisyr. JUST ADD YOU
JUST ADD YOU